We're Getting Mutants in the MCU - The Loop
Play Sound
Survivor: Khao Sok is the sixth season of Bennett's Survivor series. It began on April 14th, 2016 and ended on May 1st, 2016. It was the first season in Bennett's Survivor series to feature returning players. Going into the merge, lionsden121 and Joshbb17 were able to spearhead a series of moves against their opposers, while cutting loose their allies along the way. In the end, lionsden121 was able to win in a 5-2 vote against Joshbb17 as a result of his strong jury management. At the reunion, Joshbb17 was given the "Player of the Season" award.
Production

[

]
Survivor: Khao Sok began with eighteen Tengaged users. They were divided into two tribes: Golok, in blue, and Tarang, in orange. They were named after rivers in Thailand. Prior to the season starting, it was planned for there to be an initial schoolyard pick in which the two returning players would choose their tribes. However, this twist was scrapped when I decided it would be best to start the returnees on an equal playing field with the newbies.
On Day 5, a tribe swap occurred. On Day 9, Golok and Tarang merged into Malaya, in pink. The tribe name was coined by KCObedencio.
Twists

[

]
Returning Players: The sixteen new castaways were accompanied by two returning players, lionsden121 and _Adidas_, at the start of the season. lionsden121 and _Adidas_ were chosen to return on the theme of "second chances", as both were previously voted out pre-merge.
Amulets: After each immunity challenge, the person on the winning tribe with the best performance is given the power to determine which two castaways from their tribe will receive the next two amulets. At tribal council, amulets can be played only on the person who possesses them. One amulet can negate one vote. Amulets were given out after each challenge up until the final seven. Amulets were playable at every tribal council up to the final five.
Tribe Switch: On Day 8, the fourteen remaining castaways were randomly reshuffled into tribes of seven.
Double Tribal Council: At the final twelve, both Golok and Tarang went to separate, back-to-back tribal councils. At the prior immunity challenge, players competed against members of their own tribe for individual immunity. lionsden121 won for Tarang and Birew34 won for Golok.
Castaways

[

]
Castaway
Original Tribe
Swapped Tribe
Merged Tribe
Finish
Total Votes

Stilts12
Light Green

Golok

1st Voted Out
Day 2

6

Threedevils
Yellow

Tarang

2nd Voted Out
Day 3

6

benp428
Blood

Tarang

3rd Voted Out
Day 4

4

willtatum
Light Green

Golok

4th Voted Out
Day 5

7

_Adidas_
Yangudi Rassa

Tarang

Golok

Removed
Day 7

6

mudndawilderness
Light Green

Golok

Golok

5th Voted Out
Day 7

5

1001games
Gold

Tarang

Tarang

6th Voted Out
Day 9

4

Fobbyiyg
Light Green

Tarang

Golok

7th Voted Out
Day 9

3

manalord
Gold

Golok

Golok

Malaya

8th Voted Out
Day 11

7

KCObedencio
Red

Tarang

Tarang

9th Voted Out
1st Jury Member
Day 12

5

brenelle1120
Black

Golok

Golok

10th Voted Out
2nd Jury Member
Day 13

9

Jerard
Blue

Golok

Tarang

11th Voted Out
3rd Jury Member
Day 15

4

Novamax243
Light Green

Tarang

Tarang

12th Voted Out
4th Jury Member
Day 16

5

opslove
Orange

Golok

Tarang

13th Voted Out
5th Jury Member
Day 17

14

Birew34
Light Green

Golok

Golok

14th Voted Out
6th Jury Member
Day 17

5

subfriend
Sky

Tarang

Golok

15th Voted Out
7th Jury member
Day 17

5

Joshbb17
Orange

Tarang

Tarang

Runner-Up
Day 18

0

lionsden121
Yangudi Rassa

Golok

Tarang

Sole Survivor
Day 18

1
The Game

[

]
Episode Title

Air Date

Immunity

Amulets

Eliminated

Vote

Finish

"Oprah on Speed"

April 15th, 2016

Tarang

Fobbyiyg,
[subfriend]

Stilts12

6-2-1

1st Voted Out
Day 2

"Pretty Good, How About You?"

April 16th, 2016

Golok

lionsden121,
[manalord]

Threedevils

6-2-1

2nd Voted Out
Day 3

"There Will Be Blood"

April 17th, 2016

Golok

lionsden121,
[opslove, Jerard]

benp428

4-3-1

3rd Voted Out
Day 4

"Return the Favor"

April 18th, 2016

Tarang

subfriend,
[Fobbyiyg, KCObedencio]

willtatum

7-1

4th Voted Out
Day 5

"No Elevator to Success"

April 20th, 2016

Tarang

Jerard
[lionsden121]

_Adidas_

5-1-0(1)

Removed
Day 7

mudndawilderness

5th Voted Out
Day 7

"Just Might Be Yeezus"

April 22nd, 2016

lionsden121

lionsden121,
[opslove]

1001games

4-2(1)

6th Voted Out
Day 9

Birew34

Birew34,
[manalord, brenelle1120]

Fobbyiyg

3-1(1)

7th Voted Out
Day 9

"The Peasants Are Revolting"

April 24th, 2016

KCObedencio

KCObedencio,
[subfriend]

manalord

4(2)-3(1)

8th Voted Out
Day 11

"Smoking Out a Traitor"

April 25th, 2016

Jerard

Jerard,
[opslove, Joshbb17]

KCObedencio

5-2(1)-1

9th Voted Out
Day 12

"No Blindside Here"

April 26th, 2016

Novamax243

Novamax243,
[Joshbb17]

brenelle1120

6-1-1

10th Voted Out
Day 13

"Root of Demise"

April 28th, 2016

Novamax243

None

Jerard

4-3

11th Voted Out
Day 15

"Sorry, Not Sorry"

April 29th, 2016

Birew34

Novamax243

4-2

12th Voted Out
Day 16

"No Amulets, No Chance"

April 30th, 2016

No one

opslove

4-1

13th Voted Out
Day 17

"Zero to Hero"

May 1st, 2016

subfriend

Birew34

3-1

14th Voted Out
Day 17

lionsden121

subfriend

1-0

15th Voted Out
Day 17

Jury Vote

Joshbb17

5-2

Runner-Up
Day 18

lionsden121

Sole Survivor
Day 18
Voting History

[

]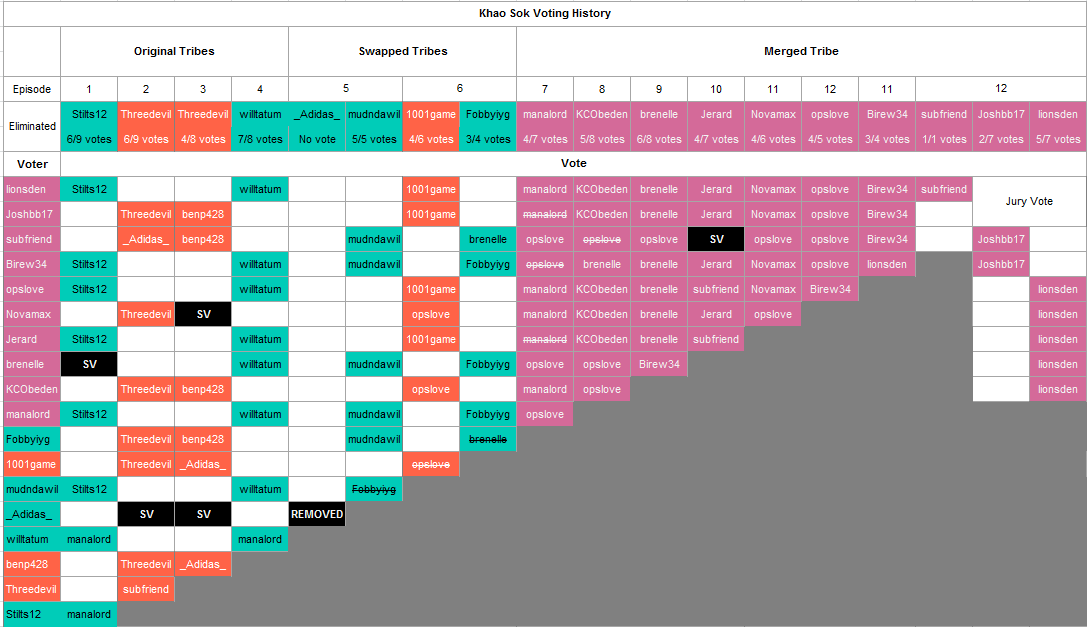 Returning Players

[

]